FLYING WITH A SLOUGHI III
The Journey of V'Fa'iz Shi'Rayan.


By Bernd Fritzsch, Ph. D.

© Fritzsch 2012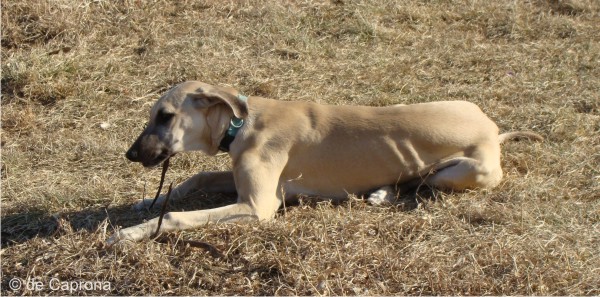 It all started when Ingela Näslund contacted Dominique to find out if she would part from the single male in our V litter out of Amal by Saff. Obviously, having a male with 100% African bloodlines was very intriguing for her to help expand the limited genetic diversity the Sloughi breed faces in Sweden. We realized that Ingela was also interested in a male that could perform, which is pretty much a given with those top performing parents. So, after lengthy discussions, we finally agreed to part from Fa'iz for a home in Sweden. That was in late fall of 2011 and given the quarantine issues in Sweden I planned on a trip in March or April to bring him to his new home. As fate had it, things developed rather differently.
Beginning of January we received an email from Ingela explaining a change in rules of dog immigration. Simply speaking, a dog of 6 months of age with two certified rabbies vaccinations and a microchip to identify him could directly go into Sweden. We were stunned and started our planning. Of course, not knowing about this possibility, I had already filled my calendar with various activities largely around two ongoing searches of new faculty hires in my department. The only possible opening was the last weekend in January. Once that time was fixed, the planning started in earnest.
The first problem we encountered was booking the trip to Sweden. Obviously, I had to fly on Thursday to arrive on Friday. In order to have enough time, should anything go wrong at customs, I initially planned to arrive bright and early to have enough time to clear customs. That trip would bring me to Stockholm airport around 6 am in the morning. However, now the logistics on the leaving end got a little awkward. The dog would need to have a health certificate no later than 24 hours before the trip starts, which meant no later than noon of the Wednesday before my departure, assuming I would leave on Thursday at noon. That meant I would need to pick up Fa'iz at our home in Crescent, Iowa and drive him the almost 500 miles (almost 800km) to Chicago to be there no later than 9 am. In other words, the first leg to Iowa City to my apartment (about 250 miles) would be easy, but I would need to get up at 4 am to reach Chicago in time. Still, that was possible so I started the reservation process with United Airlines, my preferred carrier. As it turned out, despite the Star-Alliance with Continental Airlines, the dog would need to be checked with Continental rules as the leg from Newark to Arlanda Airport in Stockholm was a Continental flight. After one hour on the phone it became clear that flying Fa'iz with this route would require me to be in the cargo hall of Continental at least 4 hours before departure at 8 am in the morning. That meant, leaving Iowa City for Chicago at the latest at 4 am. To boot, after everything was said and done, the Continental representative related that the dog would need to paid for according to Continental fees, which meant almost $800 compared to the $ 250 for United. Both the United Airlines representative and I asked the same thing: "You must be kidding". The man in turn, pointed out that United Airlines is not doing things with dog shipments according to code in his opinion. Needless to say, we thanked him for his time and as the United agent hang up on him, she also accidentally severed my connection.
Now I was stuck, 2 hours on the phone and nothing to show for. As I was desperately thinking how to reconnect with this agent who had already all the information, my cell phone rang. It was her. Somewhere during the booking process she had asked me for my cell phone contact, and now she used it. I profusely thanked her for this kindness and we started to look for alternative routes to Stockholm. The only one we could find was a Chicago-Frankfurt-Stockholm route, with a 5 hour layover in Frankfurt and an arrival just after noon on Friday in Arlanda Airport, Stockholm. Having already had the experience that a second airline of the Star-Alliance would impose their fees, we needed to contact Lufthansa, the carrier from Frankfurt to Stockholm. After another hour of phone conversations, we finally got a Lufthansa representative who took all the data and promised that we would not be charged extra according to Lufthansa rules. We went ahead and reserved the trip, including the flight for Fa'iz, for 24 hours as we needed to contact Ingela to see if she could be at the airport to pick up Fa'iz. The next morning, Dominique forwarded me the email from Ingela and we had a go-ahead. I called first United Airlines to confirm and pay for my flight. After that I had to contact Lufthansa, got connected to a German representative and confirmed my flight and that of Fa'iz from Frankfurt to Stockholm.
Now the next thing, what could be possibly done during the time in Sweden, after Ingela had picked up Fa'iz. I contacted an otolaryngology surgeon in Uppsala who was delighted to hear that I would come that weekend, offered to put me up in a hotel and some compensation for a seminar. That sounded great in terms of offsetting my costs for the trip. However, he would only be able to spent time with me starting about 2:30 in the afternoon and the early night as he had to leave for a conference on cochlear implants from Stockholm on Saturday at 5am. I therefore contacted another colleague at Karolinska Institutet in Stockholm. As it turned out, she had a thesis defense on Friday and could only meet on Saturday. In fact, she proposed to meet for dinner with an old friend and former fellow PhD student I had not seen for almost 30 years who happened to be the opponent for the thesis defense of her PhD student. That sounded great with the only caveat that my last plane out of Stockholm to bring me back to Chicago on Sunday was a 6:50 pm flight. I checked on the map, figured out that trains run between Uppsala and Stockholm every hour, cost only approximately $10. Once the logistics was cleared, my colleague agreed that she would pick me up at Stockholm main train station to bring me to the hotel of my friend for a late brunch at 9:30 in the morning of the Saturday.
Once this was settled, the only thing that required additional work was the layover in Frankfurt. I would arrive on Saturday at 9pm and my connecting flight to Chicago would leave on Sunday at 12:45. I called up my sister and she was delighted to hear that I would spend the evening, night and morning with her and her family. So my trip was all set and it looked like I would be very busy after Fa'iz was handed over to Ingela.
Of course, anyone living in the Midwest knows that the weather in January can be anything from almost spring like to blizzard conditions. Since we had to book two weeks ahead for all the logistics, we could only guess how the weather would be. As we finally reached the 10 day forecast time limit it appeared that the travel date would be probably like spring with a near record high temperature, no wind and no ice or snow. In fact, as it turned out, that forecast was right and the travel dates were just gorgeous in terms of weather. Anyone interested can also check that only one week later a cold spell hit Europe and soon after the United States. This would have made it impossible to fly with Fa'iz. So, luck in terms of weather was on our side, thankfully.
But then things went wrong. First, Dominique's car, which I had planned to take because of the extra space needed for the crate, lost all heating. It is simply not possible to drive a car in January in the middle of winter without heating. So the thing had to be repaired. As it turned out, the transmission was also bad after 100,000 Miles and needed to be repaired as well. We were promised to get the car on the Wednesday before the trip. Unfortunately, due to delays for the new transmission, we got the car only too late for Dominqiue to drive around to Omaha and the 70 Miles (100km) to and back from Lincoln, Nebraska, to get all the needed paperwork done for Fa'iz. Instead she had to drive around with the huge Chevy Van, her and little Fa'iz in a 17 people seating van. At I pm that Wednesday, while I was driving the 250 Miles from Iowa city to Omaha, she called me that she got all the information and Fa'iz was ready to go. We picked up her car that afternoon, her transmission was great but the heater still did not work. So, we put the disassembled crate for Fa'iz and him into my small car, which barely worked, and at 6pm I left for Iowa city, for the second time that day driving 250 miles for a total of 500. The next morning, Faiz and I left after a good breakfast for him for Chicago around 7am. At 11 am we arrived at the economy parking lot, his first 700 Miles of car travel behind him and another 4300 miles (nearly 7000 km) by air in front of him.
After the arrival at the economy parking lot, I put Fa'iz on his leach and assembled the crate, carefully putting in the screws and the door, padding the floor with layers of paper and putting the fresh travel blanket for him in it. I had stopped near a bus stop and when the bus arrived, the driver helped me getting the crate in, Fa'iz walking like a pro on the leash. Since it was only a two night trip for me, I had only my backpack with clothes and could easily drag the empty crate behind me with Fa'iz, walking next to me through the airport to the United Airlines check in. First stop was the railcar station to bring me to terminal 1. While I was standing, a young man approached me, asked about Fa'iz, wanted to learn about the breed. As it turned out he had himself three dogs, two setters and a boxer, and was interested in sighthounds. He happened to go to the same terminal and assisted me moving the crate around. I was already pleased that things went so extremely well, but told myself that this was only the beginning.
When I arrived at the United Airlines check-in, I was send back and forth to different counters as nobody had a clue how to check in a dog. Finally, the supervisor came after 40 minutes, told me to which counter I should go and also told me that an agent able to help me will arrive soon. Finally, after another 20 minutes of waiting, this agent arrived. Remember, my plane was scheduled to leave at 2:30, I had arrived at the airport at 11am and it was meanwhile almost 12:30 pm. I of course got a little nervous. The agent seemed to understand some of the paperwork needed but started to argue from the beginning that the papers we had for Fa'iz were wrong as they were for Sweden and the flight was going to Germany. I convinced him that we did it right as the final destination was Sweden and he finally accepted that after 10 minutes. At 1:30 pm everything was finally done, a young man came with a cart and we moved Fa'iz to his security check where he had to come out one last time. At least I could give him some water which he gladly accepted and people were just amazed how he handled himself, stepping out of the crate, sniffing carefully at the hands people extended to him and going into the crate without saying a word. I had to work my way through security, was one of the last people to enter the plane, got informed that my dog was on board, and could finally relax.
The next morning the plane arrived in time in Frankfurt and I had to go to confirm my reservation with Lufthansa for my 10am trip to Sweden. I was the first at the counter and it took us about 1 hour to resolve all the problems. The main issue was that they could not find the dog. As it turned out, Fa'iz was there but somebody who entered the number in Chicago had mistyped some of the digits and we could only deduce that it was his number because for the human eye we could identify two inversions in his 16 digit number as compared to the 'other dog' that was on the plane. Of course, getting the number corrected to agree with the one on his ticket took the longest time as a supervisor had to come, unlock the computer to allow this change to happen in midflight etc. The good part was that I learned that Fa'iz was during that time taken care of in facility specialized in dealing with dogs in transit. During the almost 4 hours of layover I managed to connect to the internet and to inform Dominique that I had made it to Germany with Fa'iz and that we were scheduled to depart as planned. Importantly, Lufthansa accepted the price already paid and no fee was added. While I did not get an answer in time, I knew that would put her mind at ease some.
Finally, at 10am on this Friday I was in the plane to Stockholm and the flight attended informed me with a smile that the dog was on board. When I asked her if this was the right dog, she told me that he was the only dog on board and had been routed from a Chicago flight. That was good enough for me and I relaxed before I started to get nervous again, thinking ahead of what could possibly go wrong in Sweden. Will the dog be confiscated because of problems with the paper work. Will the vet take a blood sample and I have to wait until the rabies titer has been determined ruining all the plans I had carefully set up for the afternoon. Would I arrive at the airport, clear customs and nobody would be waiting for me as Ingela had an accident or something. Of course, that is what happens when you are dead tired and nervous facing the unknown. I had to work hard to keep my growing anxiety under control and simply told myself that every problem will be resolved as they arise.
Finally we landed and I reached the luggage area. The crate was nowhere to be seen!!. Finally, a guy in uniform with Lufthansa sign on it drove around with a little 3 wheeler stroller. I stopped him, asking for a dog coming on the flight from Frankfurt. He politely asked me to follow him to a big door with a sign, 'extra large freight' and something written in Swedish. He opened the door, and there was the crate with little Fa'iz. I felt a huge stone rolling off my chest, he had made it to Stockholm and was apparently in great shape, licking at my fingers.
This was the most rewarding moment of the trip for me as I knew, whatever happened next, the little guy was safe and sound. All else would not matter. The Lufthansa representative told me that I was not allowed to get the dog out until he was through customs. He helped me put the crate on a cart and helped my pushing Fa'iz toward the exit. As told by Ingela, I wanted to go through the 'nothing to declare' door, but got called back right away and four custom officers were immediately around me. I thought that this is it and now the trouble starts. However, they wanted to simply have the paperwork for the immigration and after checking all of this they wanted the passport of the dog. I got nervous as Dominique had not given me any information about a passport for the dog. After thinking about what they could mean I decided that they needed to see the booklet with all the vaccinations. Indeed, they were happy with it, sifted through it but could not find the rabies vaccination. I showed it to them and they agreed that all paperwork is in order. Finally, I was allowed to take Fa'iz out of the crate as they needed to check that the microchip he carries was identical to the number in his paperwork. Dominique and I had checked this before we left and they confirmed the number and wished me the best for my stay. It took a total of five minutes at the immigration, no extra fee to pay. But these were probably some of the longest five minutes I ever experienced in my life. There I was standing, with an open corridor in front of me, all problems resolved and Fa'iz next to me wagging his tail.
I was dumbfounded, almost all my worst case scenarios had evaporated and I could push my cart with the empty crate to the exit, little Fa'iz next to me on his leash. When we exited, I could at first not spot Ingela, but when I turned further around I saw her running toward me, waving her hand. There was relieve in her face as well as mine. All was well, Fa'iz now could start to adjust to his new owner and his new environment. Ingela had agreed to drive me to my colleague in Uppsala with her car, but we had to get rid of my crate first. Obviously, with the trips ahead I could not pull the large crate without a dog behind me through Uppsala and later through Stockholm. After an attempt to check it in for my next day flight I was informed that this is only possible 24 hours before departure. However, there was luggage storage at the other end of the airport. I left Ingela with Fa'iz, disassembled the crate, got it to storage and at 2pm we settled all issues around the transfer of Fa'iz. Ingela was happy with him and had already gotten all his attention with liver she had prepared for him. As we talked, little Fa'iz neaked up on her and stole the entire package of liver. We both laughed as it was clear that he felt at ease in this new environment. We finally walked out of the airport toward to parking lot and her car. As we reached the curb to the parking lot, Fa'iz stopped and peed, peed, and peed. I never have seen a dog peeing so long. I than realized that he had not peed in his crate and apparently was holding his water for the entire trip or almost 24 hours. Finally, we reached Ingela's car. The back was nicely prepared for Fa'iz, with plenty of soft padding for him to lie on. This was the moment of complete transfer of ownership. She put aleash on him, I got my leash back, she lifted him into the car and he was resting comfortably on his pillow. After a short ride and some information exchange in Swedish, Ingela dropped me off at the ear clinic. I had to finally say good-bye to Fa'iz as she drove of for the last 500 km of his journey to her home.
As through the entire trip, my meeting with my surgeon friend and my colleague at Karolinska the next morning went great and I flew at 6:50 pm on Saturday to Frankfurt were I arrived at 9pm. However, my sister was nowhere to be seen. After waiting for 30 minutes I had the information call her phone, no answer. I called my nephew living next to my sister, but he had no clue where she was. I informed where I was and we agreed that I would wait until about 10:30 and would take a taxi after that to get me to their place. At 10:20 my sister finally arrived. She had been waiting for a plane from Goeteborg in another hallway, just 2 minutes on foot and finally had decided to just check out other arrival terminals. In addition, she had had an accident and had compressed her finger when she had tried to close the door of her son's car. Oh well, we had finally found each other, drove home where we talked until 2 pm, had a nice family breakfast form 9-11:30 when she took me back to the airport to leave for the US.
Meanwhile, Ingela had already informed Dominique about how well Fa'iz fits into her Sloughi breeding and a series of pictures have already made it to Dominique to demonstrate that he is in good hands. Clearly, another successful Sloughi trip had been completed against all odds that appeared almost overwhelming about 2 weeks before the trip. The next day I arrived safely in Chicago and finally made it home to Iowa City around 8:30pm, exhausted and invigorated at the same time from all the adventures Fa'iz and I went through in only 72 hours.