---


REFLECTIONS ON THE SLOUGHI BREED
science ~ history ~ breed profile
articles & stories
---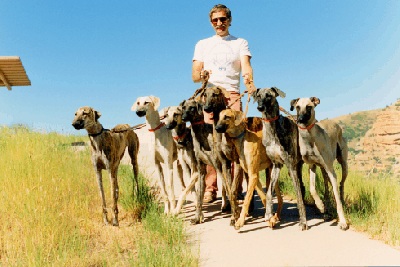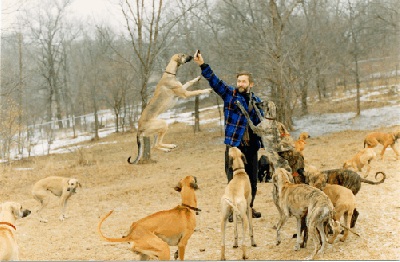 Sloughiman and the Sloughis © Dominique de Caprona
HOW THE NAME "SLOUGHIMAN" CAME ABOUT
When we started to show and run our Sloughis in the US in 1994, it became obvious that everyone could remember the name of Dominique, but my name was either not remembered at all or misspelled or mispronounced. I lived, almost nameless, throughout 1994, until the end of the same year, when we were at a show in Texas. One dog had escaped and several handlers, including me, ran after that dog to catch him. Being trained by Sloughis, I continued to run when others gave up, short of breath. All those handlers cheered me on to continue the chase: "Run, Sloughiman, run!! We can go no more."
And so I did.
The dog was safely recovered and I finally had a name everyone could remember: Sloughiman.
To select click on any of the following
~ HISTORY ~
~ SCIENCE ~
~ STORIES ~ NEW STORY ADDED
~ BREEDING ~ NEW CONTRIBUTIONS ADDED

~ THE SLOUGHI & OTHER BREEDS ~
~ THE 'OTHER SIDE' OF SLOUGHIMAN ~
~ PRESERVING THE NORTH AFRICAN SLOUGHI ~



The sole purpose of this website is educational.
---
The contents of these pages, including texts and images, are copyrighted by Bernd Fritzsch. Reproduction of these materials is prohibited without expressed, written permission.
© Shi'Rayân Graphics 2008