HOW TO WIN AGAINST ALL ODDS
Aswad Shi'Rayân - the Sloughi of the year 1994.
by Bernd Fritzsch, Ph.D.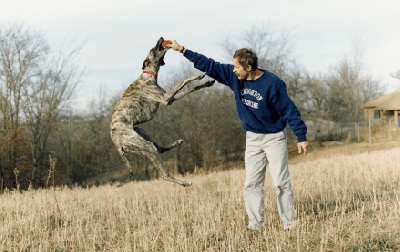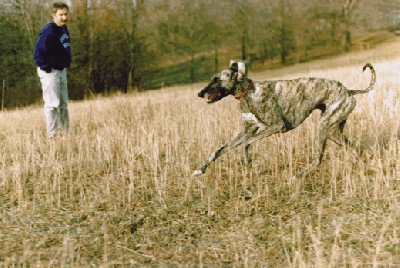 Aswad having a ball with Sloughiman © Dominique de Caprona 1997
It is late in the evening and the return of my wife is only three days away. She will be happy to see how well I have taken care of her pregnant bitch. I look over to the dogs. Something is not normal with our bitch. She is short of delivery - but this behavior looks fishy. I get an old blanket and observe her for a while. These are contractions running over her belly. Oh, my God, she is apparently ready to deliver. The contractions increase but nothing happens. Maybe something is wrong. But then again, this is the first time I watch the birth of Sloughis. Still, her labor lasts now for one hour. Dogs should be faster than that. Finally a paw appears.. Oh no, it is a hind paw!!. The puppy is in breech position!!! The bitch and I will experience each the first birth of dogs and the only one who can help, my wife, is not here. Well, maybe if I pull gently on the paw and press on the belly to help the contractions that will do. Okay, we see the limb. Several contractions later finally the hips. Now we get stuck again. The head seems to be to large. The bitch screams and with a final slide we get the first puppy, born to us in the USA, out into this world. A beautiful, comparably large brindled male. The other three puppies are positioned normally and of normal size. Three hours later I am a happy 'father' and the bitch nurses her puppies. I could not possibly know that I helped a champion to enter this world. He will be named Aswad Shi'Rayân.
Detroit, July 9/10. 1994
Our first American dog show. Neither the dogs nor us know what to expect. My wife was at shows in Europe, but I have no clue! But that is why we are here: to learn how to present dogs in America. Finally I am standing in the ring. I should 'stack' my dog. What is that supposed to mean ? The judge tells me to present my dog. I do my best to position Aswad. Then the judge approaches. Aswad starts shivering but otherwise behaves brave. Until the judge needs to check whether his malehood is complete. That is too much!! Aswad looks frightened over his shoulder and sits down. I think, I blew it. However, I am allowed to continue and the judge asks me for a triangle. She has to explain to me what I need to do. Despite my ignorance, the judge is so impressed with Aswad and his long strides that she hesitates between him and the competing Sloughi male. But this time Aswad (and myself) are not quite ready yet. On the way home I promise my wife that I will take show lessons with Aswad. During the next four months I went every week to the training session of the Council Bluffs Kennel Club..
Hollywood Classic, California, November 19/20. 1994.
Aswad has become a large and proud young male and we have developed a special bond. We have trained each other and are now ready for our big show in California. It is his first flight and I do not know who is more nervous, the dog, my wife or myself. After all, if the flight really upsets him, he may not perform . We arrive late and the night has only four hours left.
His first major competitor is the then highest ranked Sloughi. This dog was shown more often and had defeated him narrowly at our first show in Detroit. Aswad simply performs perfect. The judge does not hesitate one second and this time he wins Best of Breed (BOB) for Sloughis. The next hurdle is, among others, a very nice Azawakh, a showy dog which had lately won a Best in Show and is presented by a professional handler. Getting a group second behind this dog would be great. But little do I know. Aswad just does everything perfect and again the judge sees him as the better dog. Aswad wins a Best of Group (BOG). What a day!! This is already more than I had dreamed of. But Aswad is not done yet!!!
It is late in the afternoon when we finally compete for the Best in Show with the best 10 dogs selected out of 164 entries. All of these dogs have successfully competed for BOB and BOG. Most of them have already won one or more Best in Shows and are shown by professional handlers. Aswad and I are novices. I am full of doubt. After all, the highest ranked rare breed dog, an Argentine Dogo, is in the show ring. Nevertheless, we give our best - and we succeed!!! Aswad Shirayan becomes the first Sloughi in the USA to win a Best in Show (BIS). I can not believe it!!! The lady with the Argentine Dogo runs to me to congratulate. She has to convince me that I am not dreaming. Finally, the judge comes and gives me the trophies. It is true. Our little breech-born puppy is a BIS, multiple BOG and BOB, and our champion!!
In the evening I call my wife. She is in heaven. Aswad is only 18 months. But for this very show his trust in me has helped him through all the stress of the flight and the tough competition. In his next show, in Texas, Aswad wins again a BIS, BOB and BOG and is currently (end of 1994) after only 5 show week-ends ARBA's* # 1 Sloughi, # 2 Hound, and one of the top ten all rare breed in the USA. He also wins BOG and BOB in a major dog show in Toronto, Canada and is with 19 months the highest decorated Sloughi in North America. What a start for the show career of our puppy that barely made it alive into this world.
Aswad has also sired his first litter in 1994. There was no problem with the birth of his kids. Some remind me of the father with the same athletic built and the beautiful brindle. My wife and I are looking forward to train these puppies to follow in the footsteps of their father and become the next generation of champions.
*ARBA = American Rare Breed Association Inc.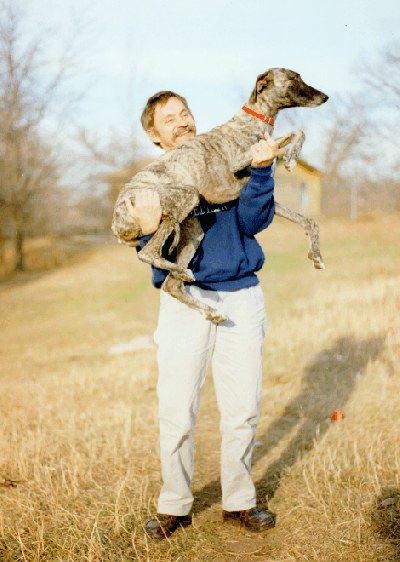 Aswad & Sloughiman © Dominique de Caprona 1997